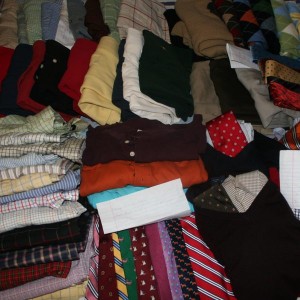 Clothing included in a memorial quilt should represent the person to be remembered but must also meet the needs of the intended recipient. To make a keepsake that will provide decades of comfort, first determine how the quilt will be used and by whom; then select the appropriate garments.
Consider the Quilt Recipient
What age is the primary recipient of the quilt? Are there other potential quilt-users in the home? If so, take the age and habits of secondary users into consideration, as well. For instance, a lap or bed quilt destined for a home with children or pets should be machine washable, regardless of which family member is the primary recipient.
Determine the Likely Use and Care the Quilt Will Receive
How will quilt most likely be used? Will it hang on a wall for display only? Or will it be used daily for warmth and comfort on a couch or bed? Will the recipient launder the quilt at home? Be realistic and err on the side of caution when predicting how the quilt will be treated. If actual use and care are uncertain, create a sturdy quilt that can tolerate rough treatment.
Choose Specific Garments Based on the Care Labels
Use the care label in each garment as a guide to select appropriate clothing for the memorial quilt. Choose durable, machine washable fabrics for quilts that will receive frequent use and save the delicate fabrics for decorative items, such as a throw pillow or wall hanging.
These are just a few of the preliminary considerations when choosing clothing for a memorial quilt. If you have any questions or comments, please let me know. Just leave a message below or use the contact form  – I'm here to help.